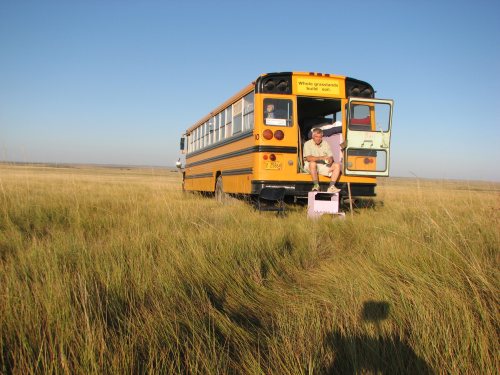 ORTONVILLE, MINNESOTA--The past month I have been traveling through South Dakota and North Dakota doing baseline carbon monitoring.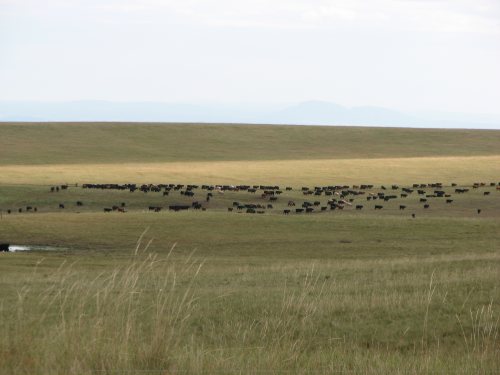 First stop in the Dakotas was outside of Newell, South Dakota, at the two ranches purchased in 2010 by Grasslands LLC in cooperation with the Savory Institute. Brandon Dalton manages the cattle and grass, and this year they are running about 3400 yearling cattle and several hundred cow-calf pairs on about 14,000 acres total. It was exciting to see such large herds moving across this splendid grassland. One day I observed large, ball-rolling dung beetles at work. Brandon helped me with a couple of plots.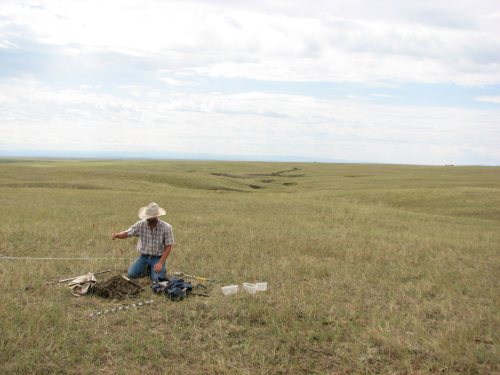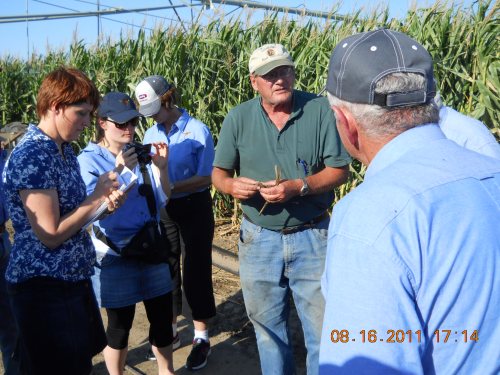 Near Pierre, South Dakota, on the Missouri River, Dwayne Beck (above, center) runs the Dakota Lakes Research Farm, a farmer-centered station that has done a great deal to help farmers develop workable and profitable no-till farming systems. No-tillers in the Pacific Northwest had told me about the "brain transplant" they got while visiting Beck at Dakota Lakes: about rotations, about intensity, and about imitating natural systems. My visit coincided with that of a group of Australians led by John Lawrie and Andrea Koch (program leader of the Soil Carbon Initiative, above left). In Australia, according to Andrea, the soil carbon opportunity is framed almost entirely by the politics of climate, as a way to offset fossil fuel emissions. I encouraged the Australians to adopt the Soil Carbon Challenge as a way to change the conversation, shift the leadership, and reframe the opportunity in terms of biosphere function and biosphere work, of which the climate issue is a symptom or manifestation.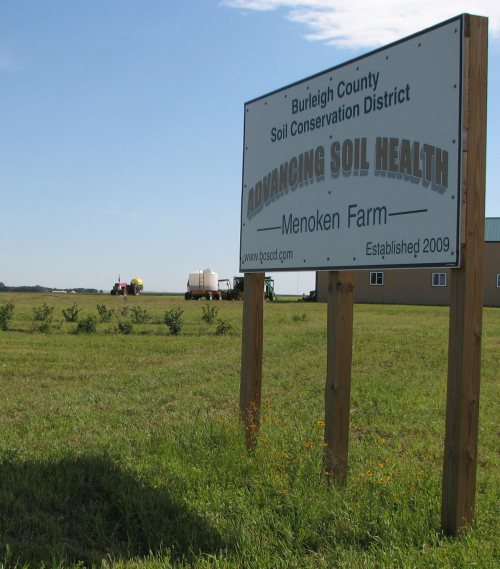 Then it was north to Bismarck, North Dakota, to visit several people connected with the Burleigh County Soil Conservation District. Here was a group of dedicated and innovative farmers and graziers, led by NRCS District Conservationist Jay Fuhrer, who were moving toward soil health in a big way, using some very simple principles.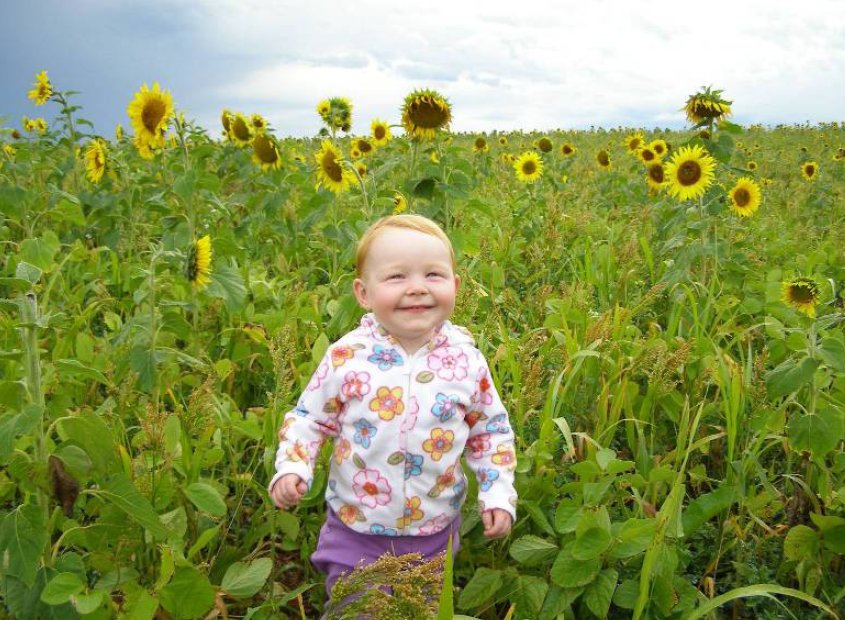 Number one was diversity. The picture above, taken by one of the farmers, shows the diversity of the cover crop mixes these people are experimenting with. Grazing animals are part of the mix too: Gabe and Paul Brown, Ken Miller, and others are using high-density grazing to trample cover crops into "soil armor" for the winter and feed soil microorganisms.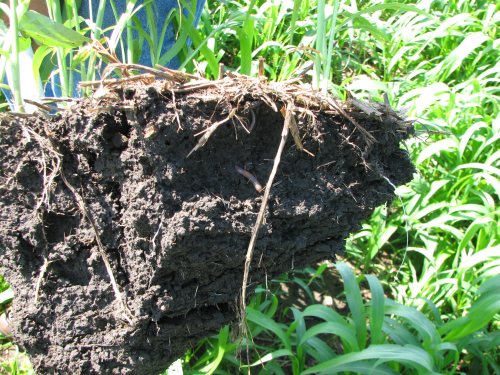 District Conservationist Jay Fuhrer, according to some of the people who work with him, "lives soil health." Here he shows me a shovelful of cottage-cheese-textured soil, crawling with worms, under one of Gabe and Paul Brown's cover crop mixtures. The bottom line on building soil health with a diversity of plants and animals, as Gabe Brown loves to explain, is the immense reduction it makes possible in the inputs used to sustain monocultures: tillage, nitrogen fertilizer, and herbicides, without sacrificing yield in cash crops. For more on the Burleigh County group, see the video and the events (right column) that are coming up in Bismarck.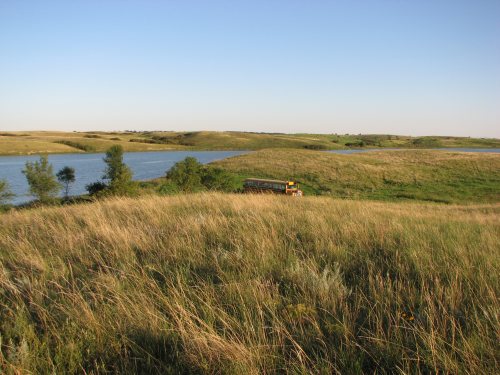 Another highlight was visiting Gene Goven's place north of Turtle Lake, where he has used planned grazing to increase water infiltration up to twelvefold, and the diversity of his prairie pastures is amazing, over 200 species of plants. I had a great spot to camp, and could swim in the lake after doing the baseline plots.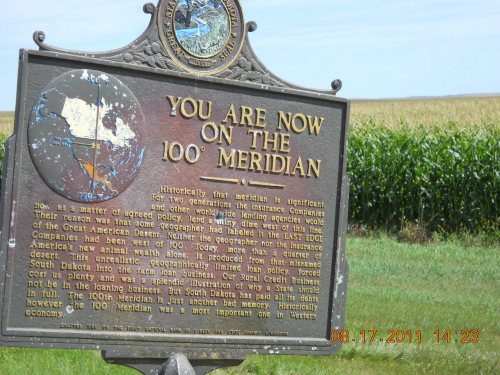 Crossing the 100th Meridian of longitude into a less brittle, more generally humid environment. The piano in the schoolbus has started to go out of tune, after nearly 2000 miles.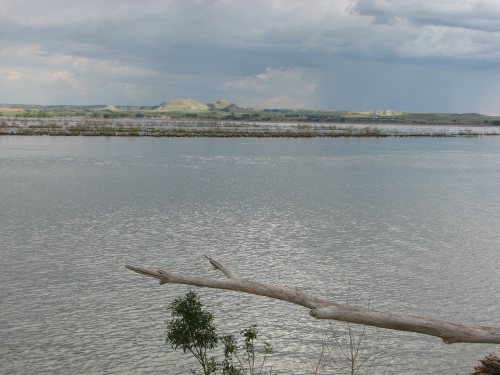 This has been a very wet year in the northwest, including Montana and the Dakotas. Crop losses in North Dakota alone are estimated to be above $1 billion. The Missouri River has remained very high all summer, and the Corps of Engineers, who run the dams on the Missouri, have been roundly criticized for their decisions, which have resulted in prolonged downstream flooding of communities and farmland along the river.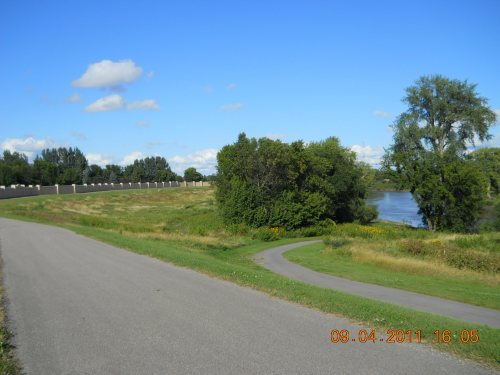 In Grand Forks, North Dakota, along the Red River, the devastating flood of 1997 triggered the construction of massive flood walls along both sides of the river. From the flat Red River valley south to Ortonville, almost 200 miles, I did not see a single ruminant animal from the road, just millions of acres of corn, soybeans, sugar beets, and tilled wheat fields.

NEXT: Nebraska, Iowa, Illinois, Indiana, and Ohio. Contact me if you're interested in a talk/presentation/workshop along the lines of the description below, or a baseline soil carbon plot.
Discovering the carbon cycle
Most of what we hear about carbon, and the global carbon cycle, is threatening and negative. It's a bad situation, and we don't seem to have much power or leverage over it.
All of our environmental and economic issues depend on the ways carbon and water move, on every scale from the square foot of soil surface to the entire globe. Human decisions have an enormous influence on the way these cycles function. And underlying human decisions are our beliefs, often based on past experience and training.
Peter Donovan has been establishing soil carbon baseline measurements on progressive and innovative ranches and farms in the west, and is currently traveling eastward doing the same. He will tell the fascinating and little-known story of the discovery of the carbon cycle, its relation to water, describe what some of these innovative ranchers and farmers are doing to enhance these functions, and facilitate a discussion on ways to take advantage of these enormous opportunities.