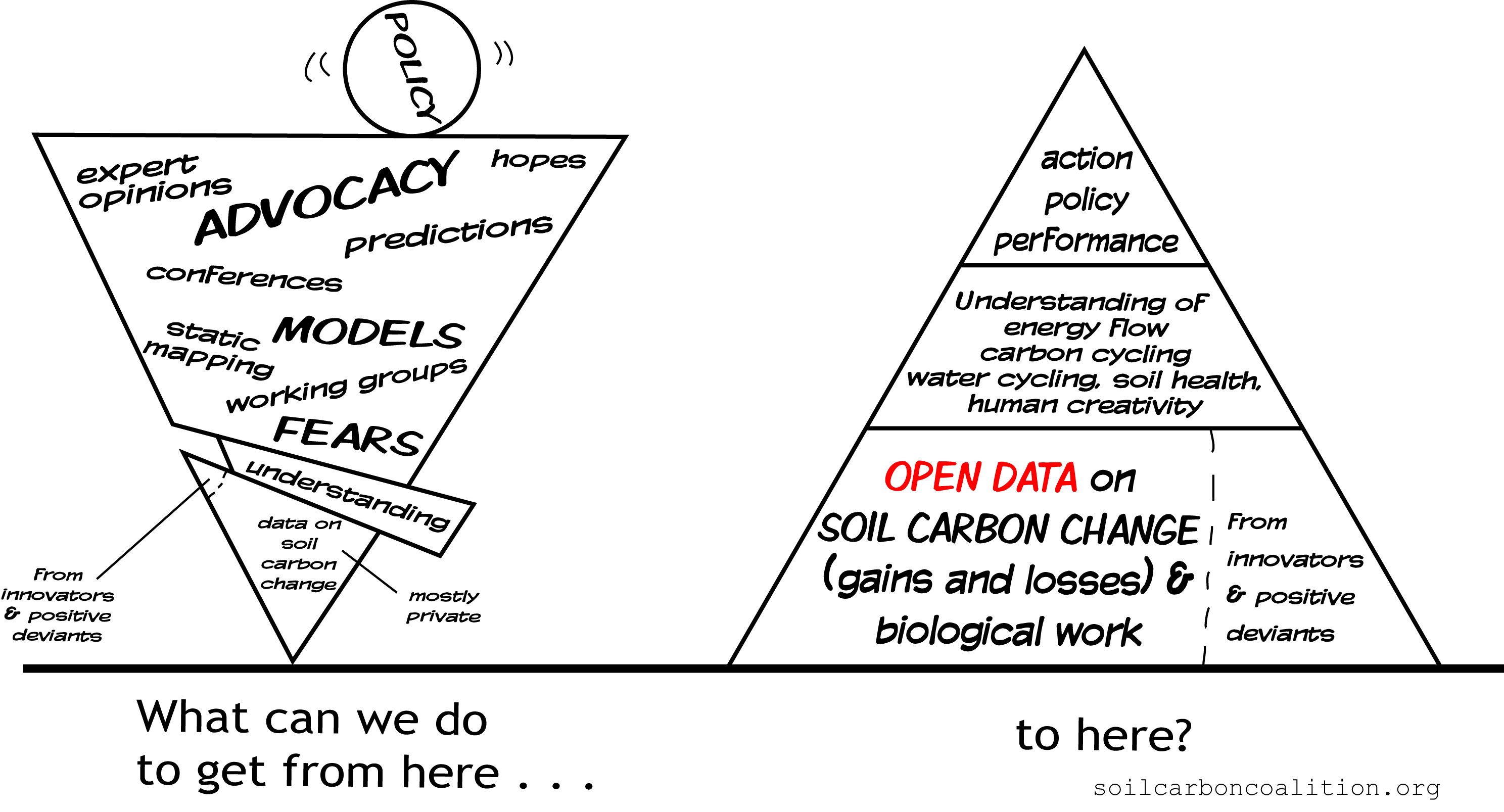 Situation: For years, working groups and strategy sessions on soil carbon have focused hopes on a market for soil carbon credits or offsets. Even with the failure of cap and trade in the US Senate, this focus dominates policy conversations in the US.
There is relatively little data on soil carbon change, especially from nonstandard land management strategies. Understanding of how carbon cycling works, in complex situations and with various types of management, is shaky and overly influenced by all the factors on the upper layer on the left, above.
Worst possible outcomes: this focus continues to occupy hopes and dreams, time and energy. A workable market or incentive does not emerge. Or, if a market emerges, it rewards practices rather than performance, does not significantly enhance soil health, and cannot be maintained. We remain in the situation pictured on the left, above.
Best possible outcomes. Strong platforms develop in terms of data and understanding, with good and improving performance in turning atmospheric carbon into water-holding, fertility-enhancing soil organic matter that is monitored. If there is a policy incentive or market, it is firmly supported by understanding and data, and may be local rather than national, with the benefits close to the costs.
Ways to foster best possible outcomes. Start at the bottom, not the top. Develop a wide-ranging and site-specific range of data and proven possibilities on soil carbon change, which is a keystone indicator of biosphere function on land. This data should be public and available, not secret or unavailable as is most of it now. Understanding of carbon cycling, soil health, biosphere function will probably follow, as well as performance and policy. (Learn more about positive deviance.)
The Soil Carbon Challenge starts at the bottom. And the bottom of the page is where our contact info is. Please contact us if you're interested in a baseline, getting trained as a Monitor, or if you are interested in helping us out with a donation. We can also accept donations to support and implement specific and local monitoring projects.