The
Rancher-to-Rancher
day at Table Mountain with Sierra Foothill Conservancy on March 19, 2016 was one of the best. Kent Reeves had arranged this with Billy Freeman, their cattle and grazing manager. We had great weather for an outdoor day, and the place was lush and beautiful with lots of grass and flowers.
Kent had done a transect in a 2.6-acre riparian exclosure (from the late 1990s) that straddled the creek near the entrance of the site. Billy had noticed that the site had become dominated by ripgut brome and fiddleneck, with lots of grey thatch that needed to be worked into the ground. He wanted to see the few perennial grasses increase. He concentrated cattle on it for a short time in March 2015. The grasses were a bit sparse, but lush and green.
Over 50 people attended the day, which began with a standing introduction circle in the inclusion zone.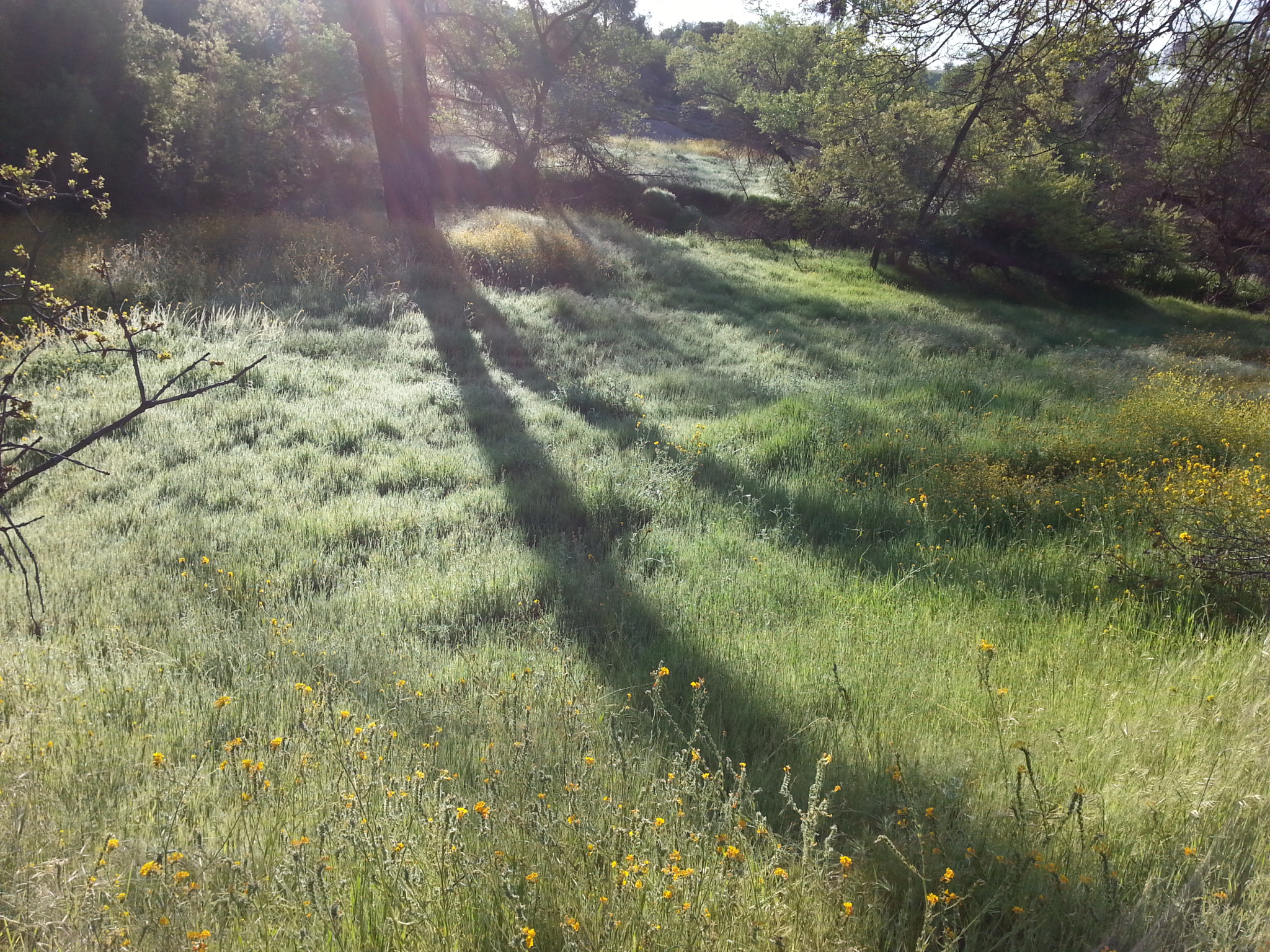 Billy did a brief welcome, and I gave some context to what we were about to see, and encouraged people to experience the site with all their senses. I asked people to introduce themselves, and say a little about why they came, what they expected or hoped to learn or experience. Over a dozen of the participants were members of the California Naturalist class. There were board and staff members of the Sierra Foothill Conservancy, and ranchers from Madera and adjoining counties, and a couple of people from Point Blue. One rancher commented that this was really the "rancher to environmentalist" program rather than rancher-to-rancher. There were some people who had never observed grazing or animal impact up close, or as an event.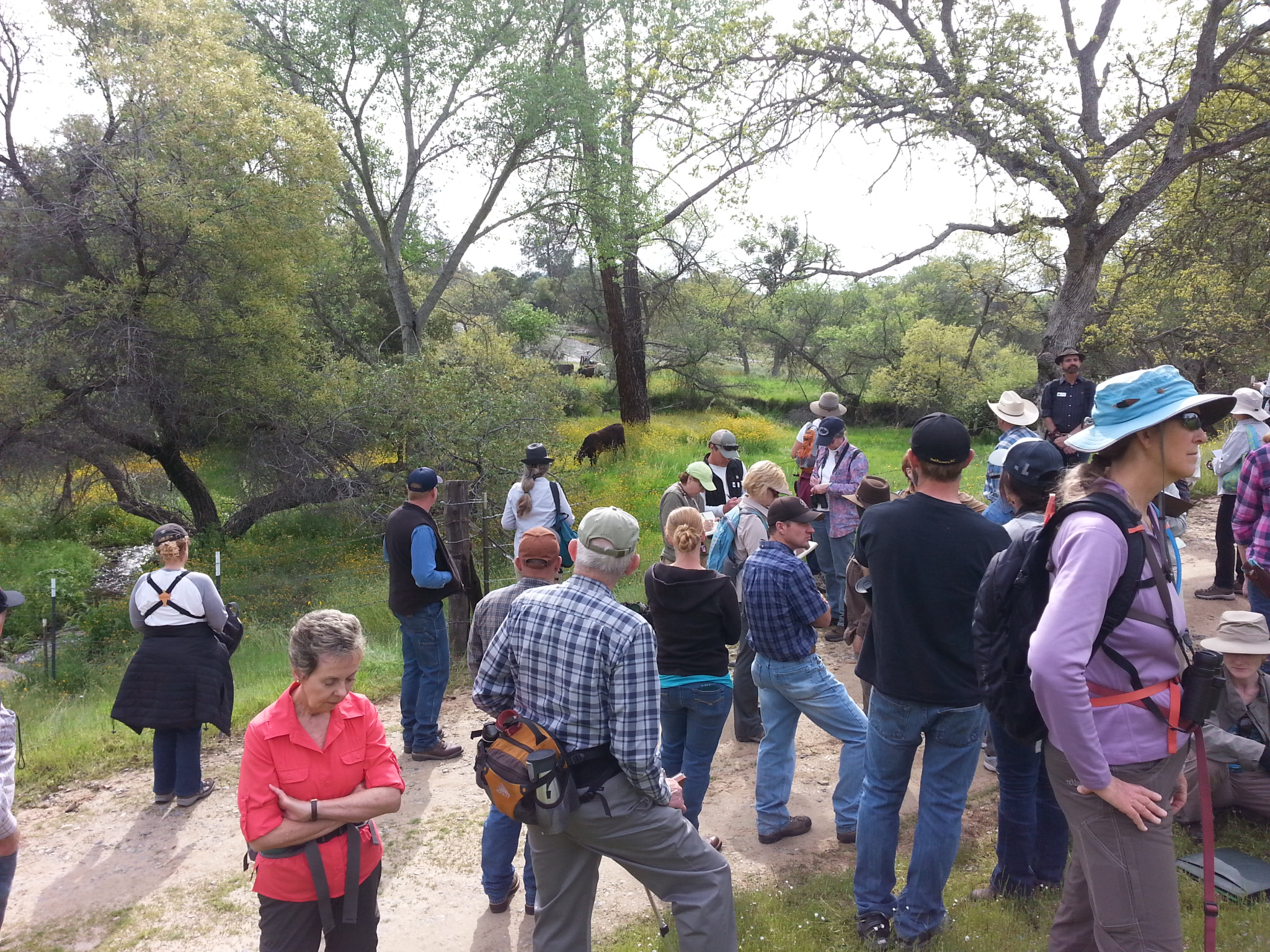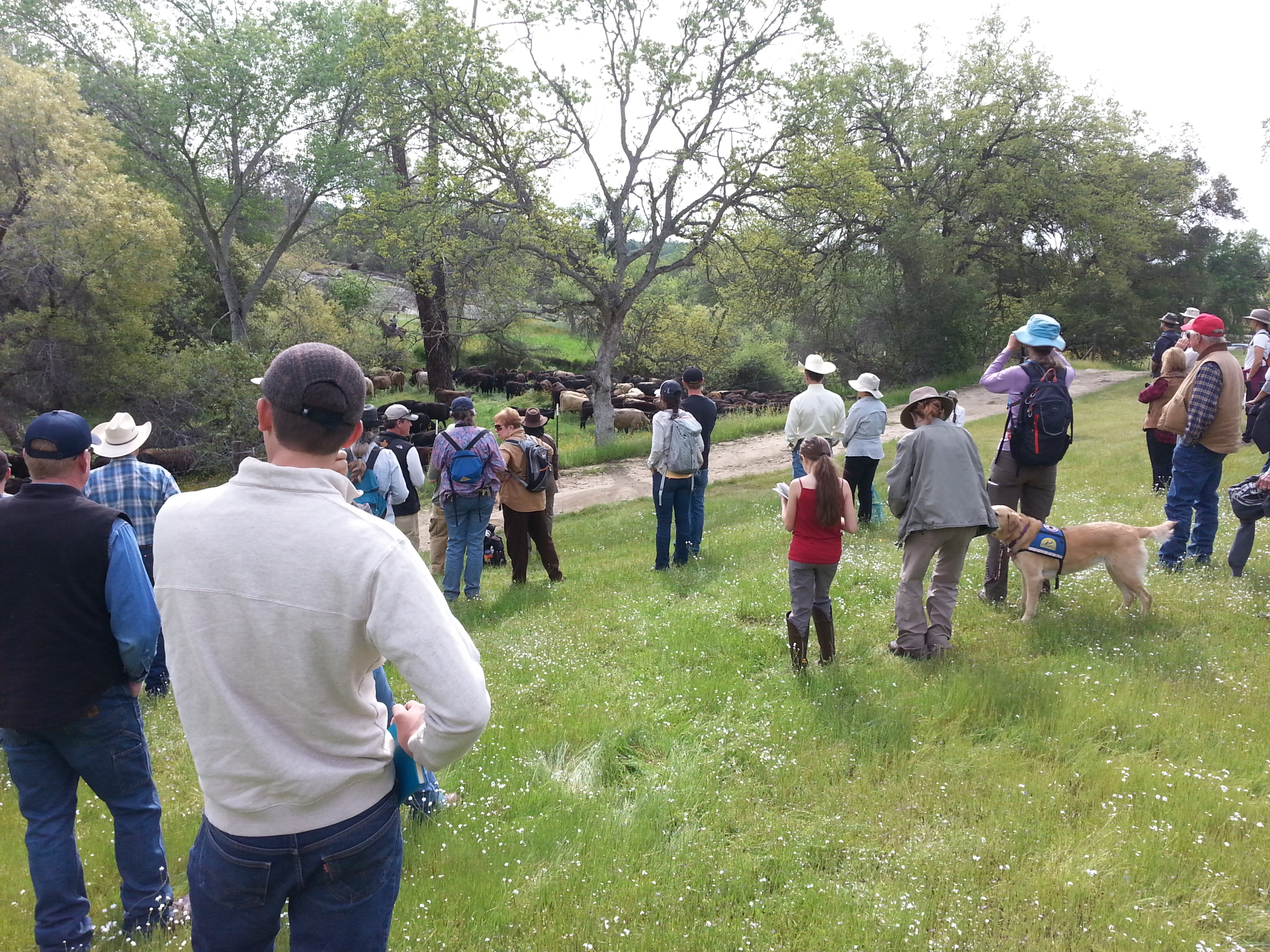 Then we went out the gate to the slope above. Billy, his mom Sherri Freeman, and Willy who works for the Conservancy had gathered 172 800-pound yearlings that morning and put them in a nearby corral. They moved them into the inclusion zone as people watched. They held them on the space where we had our introduction circle for a while.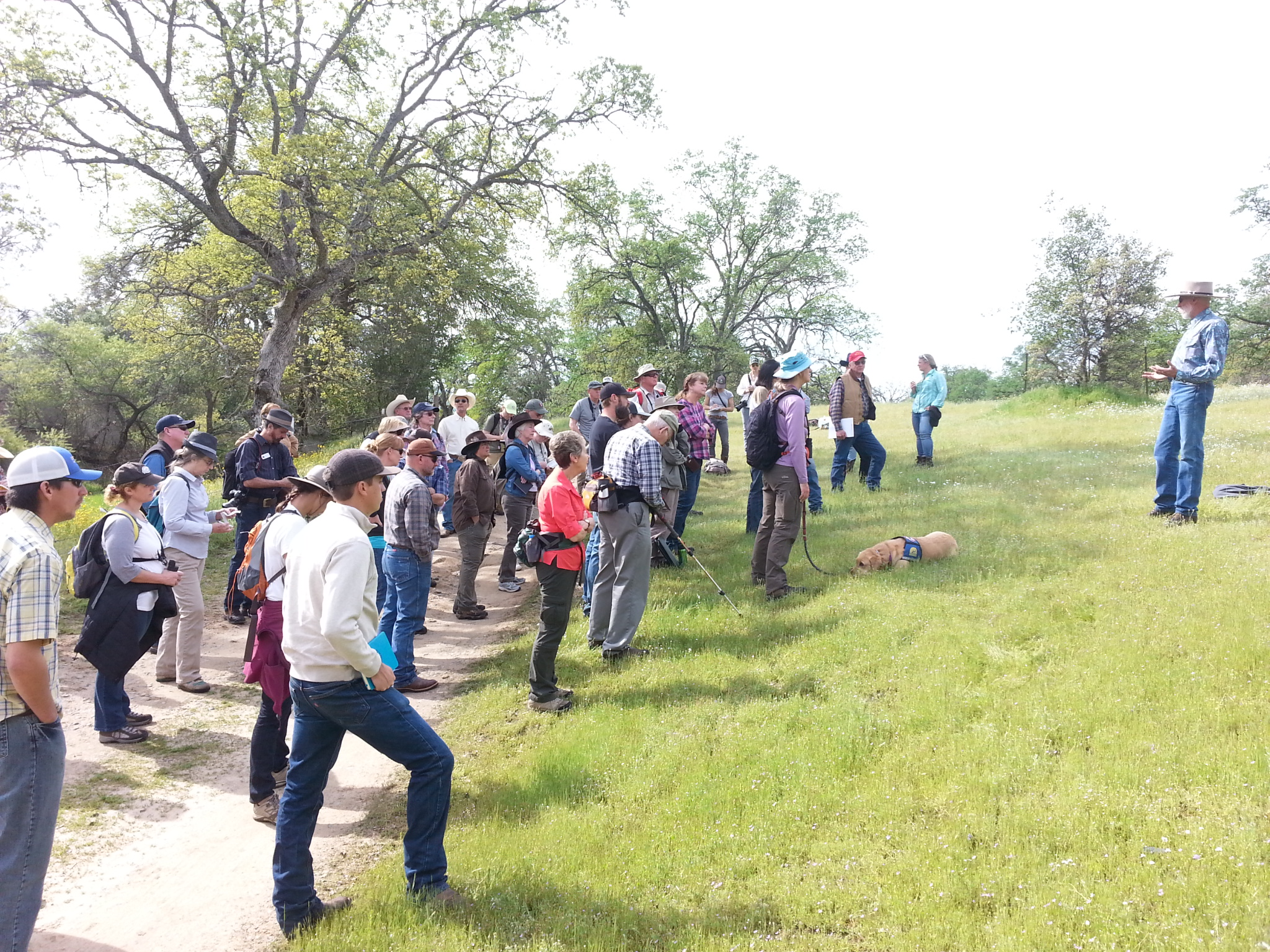 While people were watching, Kent gave talks about animal impact and herd effect, timing, and recovery, and good stockmanship as a way to achieve these, and gave us a few cowboy poems as well. I talked about ecosystem function, carbon and water cycling, about the tendency for convergent problem-solving to make ineffective systems more efficient, and the opportunity for creative approaches to improve ecosystem function such as water and carbon cycling. We did an infiltration-ring demo on the slope above the inclusion zone where three rings within 15 feet of each other had radically different infiltration rates, with different vegetation and rodent activity.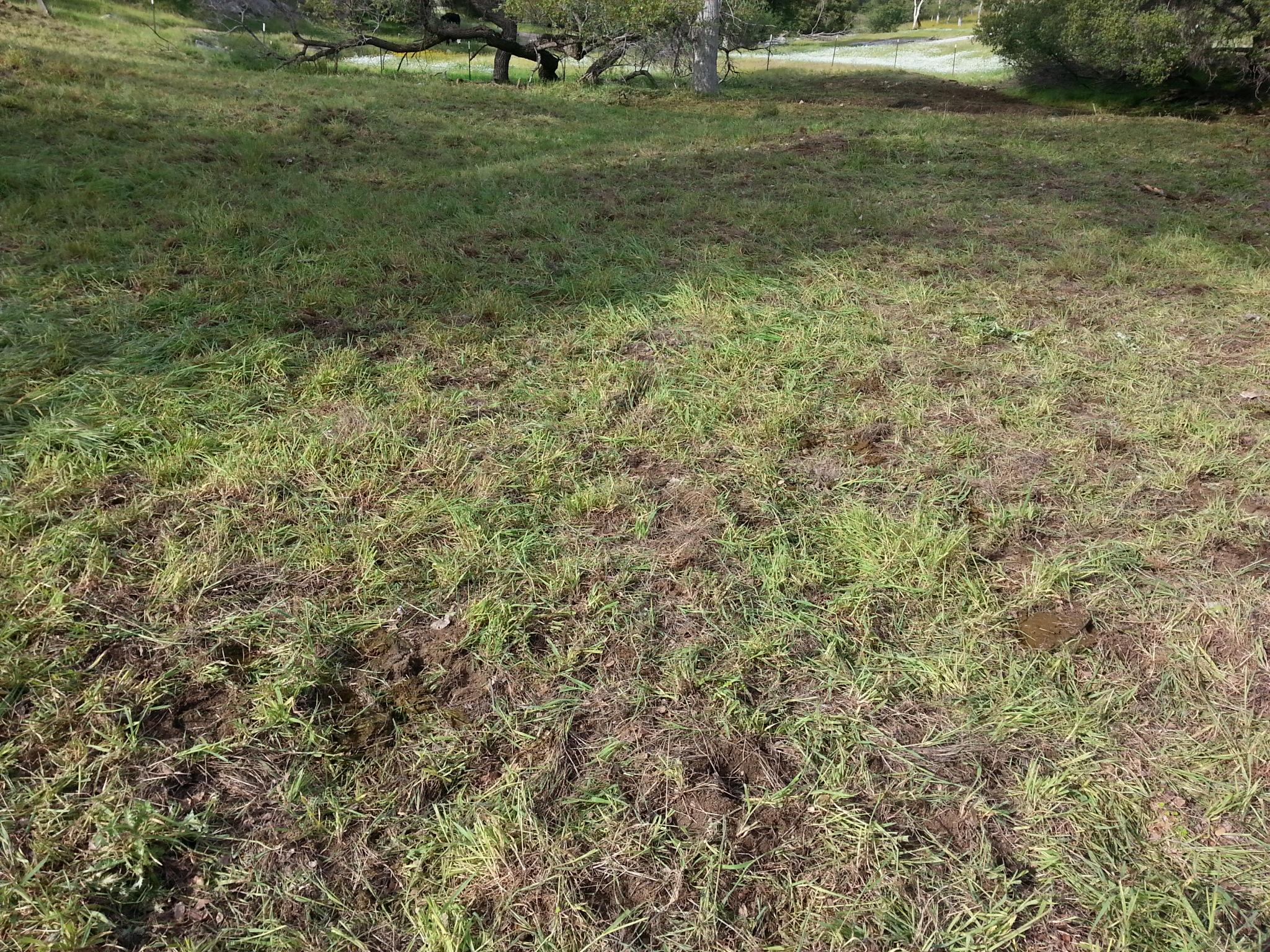 As the cattle moved to the other side of the creek, we went into the inclusion zone to observe. The 2- and 3-foot high fiddlenecks and grasses were fairly thoroughly trampled. In a couple of places, 4-foot vertical creek bank was nicely rounded and sloped, with an excellent chance for silt-catching grasses and other vegetation to grow there.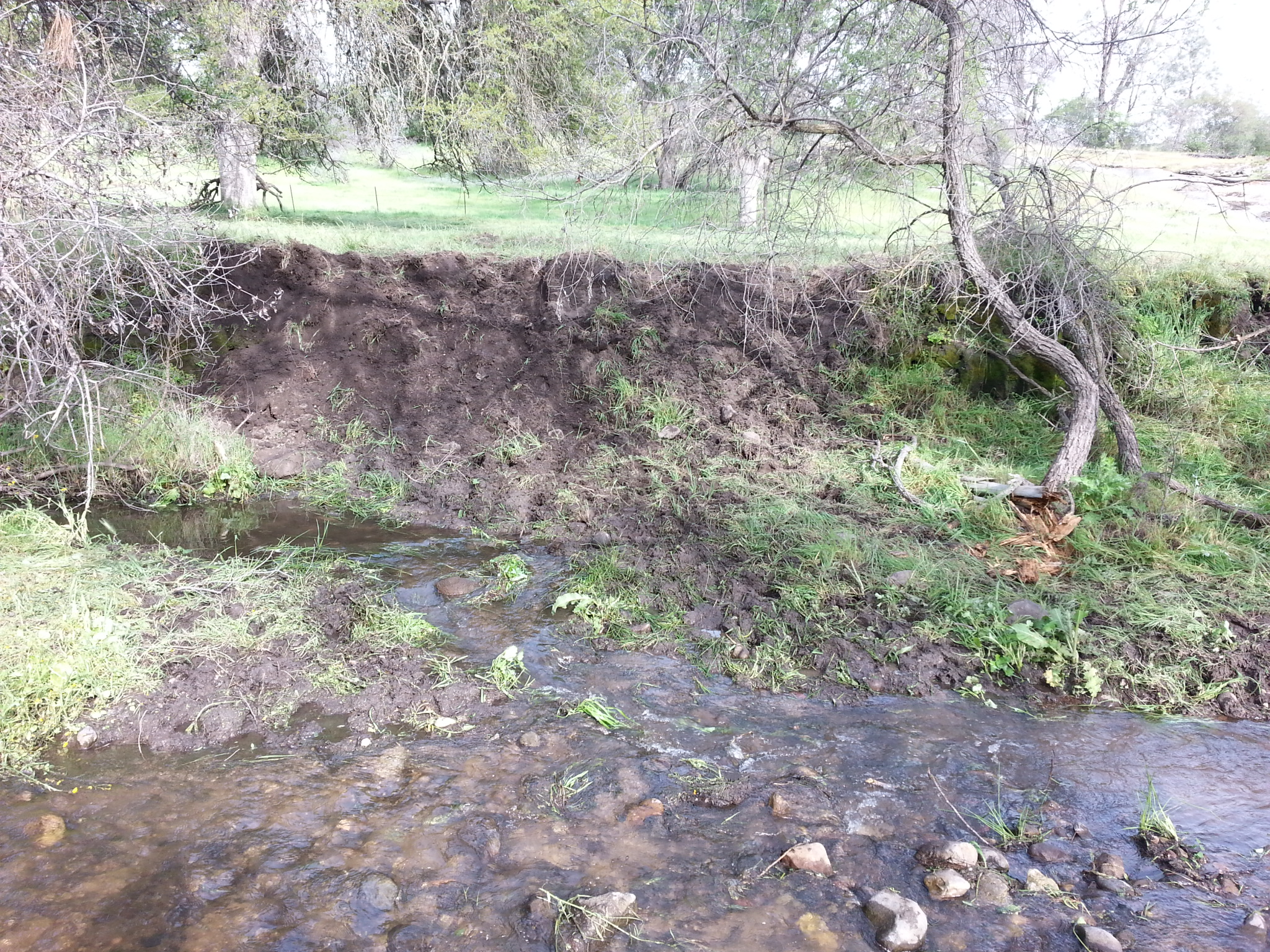 We left the cattle in the zone while we enjoyed the barbecue lunch, which was near a small grazing exclosure put up in the late 1990s to protect some perennial needlegrass, which did not appear to be spreading or reproducing in the exclosure. After lunch about half the participants adjourned to the benches under the shade of a live oak near the creek to share what we had learned via the talking circle. People were very appreciative of the day. One theme that emerged was the rural-urban divide, and the opportunity to bring this together by focusing on ecosystem or landscape function rather than on species, practices, or land classifications.
Noted Billy Freeman: "The event was a great representation of Sierra Foothill Conservancy and our commitment to conservation of working landscapes in the Sierra Foothills region. I think we made great progress in connecting local people to what we are about and how we are stewarding our preserves with grazing animals. . . . The attendance level as well as diversity of participants made the day even a greater success. I think it was great for everyone to get to know our team, the R2R program, and learn about key ecosystem processes that can be managed through grazing."
The Rancher-to-Rancher project is funded through the 11th Hour Project, TomKat Ranch Educational Foundation, and the San Benito Community Foundation.